Waste
Why it is worthwhile to dispose of waste separately, where hazardous waste belongs, what dog owners need to be aware of - you will find answers to these and other questions in this section.
Questions:
01. Why do I have to pay for the trash bag?
The collection and incineration of waste costs money. The fee bags can be purchased by the roll in all major stores, often they must be requested at the cash registers.
Here you will find the points of sale of the fee bags.
Three different sizes of fee bags are available for waste disposal:
17 liter bag Fr. 1/pc.
35 liter bag Fr. 2/pc.
60 liter bag Fr. 3.30/pc.
You can find more info on the topic of waste disposal at www.ezvow.ch.
02. All this waste is getting too expensive for me. What can I do so that my trash bag does not fill up so quickly?.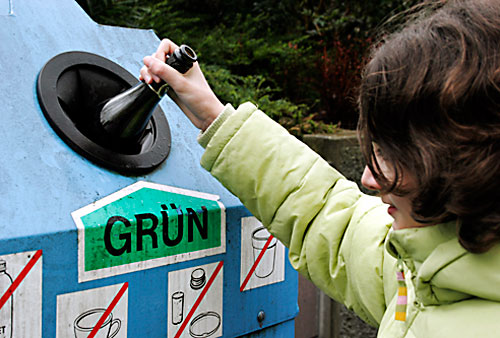 In the canton of Obwalden, you can separate some of your waste and hand it in at collection points free of charge. Each municipality has its own collection points. Here you will find a list of what can be disposed of at which collection point in the canton of Obwalden. You can bring to the collection points for example:
Glass
Cans and aluminum
Cardboard
Paper
Old clothes
PET and milk bottles can be disposed of in supermarkets
If you have any questions about the disposal of waste in the canton of Obwalden, the waste disposal association will be happy to help you on tel. 041 660 03 30. For general questions such as basic waste fees or collection points, the municipal administration of the respective municipality of residence will provide information.
At www.abfall.ch you will find more information on the topic.
03. Where can I dispose of PET and milk bottles?
PET and plastic milk bottles should be collected separately. However, you can only dispose of them at larger collection points or in certain grocery stores.

There is other waste that you should be sure to dispose of separately. These include:
Batteries
Neon tubes or energy saving lamps
Electrical appliances
Here this waste can be disposed of.
04. How can I dispose of kitchen waste?
You can store green waste in a green ton at your place of residence or at a Materials collection point dispose
It is important for the environment not to dispose of compostable waste in the fee bag, besides you save money because your fee bag becomes full much less quickly.
In the green container belong: Trimmings and garden waste
05. What do I do with old clothes and old furniture?
Old clothes belong in the clothing collection, if they are not broken. Old furniture can be taken to the Brockenhaus. By the way, have you ever been to a second-hand store or Brockenhaus? Here you can find many a nice piece at quite a reasonable price. Nearby there are second-hand stores in Sarnen, in Stans or in Lucerne.