Living
General
How to find a new apartment, how to prepare the move and where to get advice in case of problems - this and much more you will learn in the questions and answers about housing.
More about housing
Questions:
01. Why do people rent an apartment in Switzerland?
In Switzerland, two-thirds of the population live in a Rental apartment. The apartment belongs to the landlord or landlady, who does not occupy it himself. The people who use the apartment are called tenants. They rent the apartment and pay a rent for it, usually monthly.
Only one third of the resident population lives in a Condominium or a own house. There is a reason for this: apartments and houses are very expensive in Switzerland; most people cannot afford them.
Renting out apartments involves some effort, as does the maintenance of the property. Many landlords therefore hand over this work to a Property Management. This is then the contact point and responsible for the tenants' concerns.
Here you will find the information sheet "Living in Switzerland" in 15 languages.
You can also find many useful tips on the subject of housing here.
02. How to find an apartment?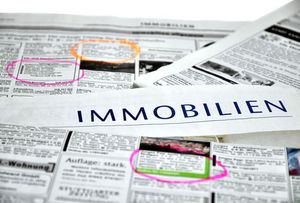 It is recommended to different ways to look for a new apartment. This will significantly increase your chances.
Internet: Vacant apartments are advertised on real estate portals.
Administrations: Request a registration form from as many building cooperatives and property managers as possible.
Newspapers: Vacant apartments are also advertised in daily newspapers, community gazettes or neighborhood newspapers.
Free ads: In shopping and community centers, neighborhood stores, restaurants, schools or hospitals there are also advertising boards. You can post an ad there free of charge or search for offers.
Circle of acquaintances: Längst nicht alle freien Wohnungen werden auch ausgeschrieben. Informieren Sie deshalb Ihre Verwandten, Freunde oder Mitarbeitenden, dass Sie auf der Suche sind. Sie erhalten so möglicherweise wertvolle Tipps.
Various real estate search engines:
03. How do I apply for an apartment?
If you want to successfully apply for an apartment, you should Prepare well and note some important points:
Apartment tour: In Switzerland, it is customary to make an appointment to view the apartment. Show up on time for the appointment. Make a serious and friendly impression.
Registration form: Fill out the form neatly, clearly and completely. If you find this difficult, find someone to help you fill it out.
Documents: Together with the registration form, you must submit other documents - such as your foreigner's identity card, debt collection statement (available from the debt collection office in your place of residence), salary or unemployment benefit statement, IV or AHV decree and written rent guarantee. On the registration form, you will find a list of the forms that must be submitted.
Cover letter: Your chances increase if you enclose a personal letter with the documents. Refer to the advertisement, briefly introduce yourself and explain why you are particularly interested in the apartment. Again, if you find this task difficult, seek assistance.
Reference persons: Whenever possible, provide references who can provide good information about you - for example, your employer or previous landlord.
04. What is a lease and a joint-interest deposit?
Lease: As a rule, the renter and the leasing party conclude a written rental agreement from. By signing, both parties agree to abide by the agreements made therein. You must keep the rental agreement.

Rent deposit (rent deposit): The deposit is maximum three months rent. Es dient der Vermieterin oder dem Vermieter als Sicherheit; etwa bei unbezahlten Mietzinsen, offenen Abrechnungen für Nebenkosten oder bei Schäden an der Wohnung, für die Sie aufkommen müssen. Das Depot wird Ihnen direkt nach Ihrem Auszug aus der Wohnung wieder zurückerstattet.
05. What costs are included in the rent?.
Initially, the apartment costs the monthly rent, agreed in the rental contract. Added to this are the ancillary costs.
At Service charges include, for example, the costs for heating, water, the janitor, garden maintenance, waste water and much more. The ancillary costs must always be mentioned and precisely described in the rental agreement. Otherwise they are not allowed.
You usually pay a part of the additional costs monthly together with the rent. This is called Payments on account. At least once a year you will then receive a Final account. If the payments on account are lower than the final invoice, you will have to pay the remaining amount. If the costs are lower than this, you will be refunded the amount paid in excess. Check the final invoice carefully, it may be worthwhile.
06. What is a handover protocol?
After you have received the lease agreement, arrange the date for the apartment handover with the landlord, landlady or administration. At the handover, you check together whether Damage in the apartment are present. These are recorded in detail in the arrival or apartment handover protocol.
Important: Also Trivia such as scratches or chipped corners belong in the protocol. Also agree with the landlord or landlady which damages will be repaired by the landlords. At the end, both parties sign the acceptance protocol and you receive a copy. Keep it in a safe place.
There is damage that, despite thorough inspection, you discover only after moving in. In this case, immediately create a detailed list of defects und erwähnen Sie, welche Schäden Sie behoben haben möchten. Senden Sie die Mängelliste per Einschreiben an die Vermieterin, den Vermieter oder die Verwaltung und beachten Sie dabei die Fristen (in der Regel 10 bis 30 Tage).
Important: The following belong on the subsequent list of defects all damages. Those that you want to have fixed, and also those that do not bother you further. This will prevent you from having to pay later for damage that was already there when you moved in.
07. How to prepare for moving to a new apartment?.
Registration and deregistration
If you change the municipality of residence, you must deregister with the old municipality of residence and register with the new one. You can usually do this online. You can find information on this here.

Migrants from a third country with a residence permit must obtain information in good time from the residents' registration office of the municipality of residence or from the cantonal migration authority as to what additional steps must be taken in the event of a move. This applies in particular to a change of canton, because a new residence permit is usually required for residence in another canton.

You can find helpful checklists on the subject of moving here.
08. Can the landlord, landlady simply increase the rent?
The landlord or landlady may increase the rent, but to do so must submit a official form use. In it are clear reasons for the increase and the corresponding figures. If you do not agree with an increase, you have 30 days to object.

Before you oppose a rent increase or file a Reduction you should find out exactly how to proceed and what deadlines you have to meet. Seek advice first before acting rashly. You can find out where to obtain advice here.

If the Reference interest rate If the reference interest rate is lowered, you as a tenant have a legal right to a reduction of the rent. A table with the amount of the reference interest rate as well as further information can be found at here . Additional information on the reference interest rate is available here.
09. Can an apartment be terminated?
Yes, both renters and lessors can terminate the apartment. However, you must comply with the terms set out in the contract. Deadlines and dates note. Anyone who receives a notice of termination has 30 days time, to oppose it at the conciliation board.
It is also possible to use the apartment outside the official termination dates zu kündigen. Sie müssen dann allerdings selber einen Nachmieter oder eine Nachmieterin finden und der Verwaltung vorschlagen. Wenn Sie fristgerecht kündigen Sie fristgerecht übernimmt die Verwaltung die Suche nach einer neuen Mietperson.
10. Who pays for repairs in the apartment?
Minor defects must be remedied by the tenants themselves. This includes, for example, oiling hinges, changing a light bulb or tightening a loose screw on a socket.

Major repairs, welche durch Fachpersonen ausgeführt werden, müssen vom Vermieter oder von der Vermieterin bezahlt werden. Melden Sie sich bei einem Schaden immer zuerst bei der Verwaltung, diese organisiert dann für Sie eine Fachperson. Nur so werden die Kosten vom Vermieter übernommen.

In the event of damage caused by the tenants themselves due to excessive wear and tear or a mishap, the tenants or their liability insurance shall be liable.

You can find more detailed information at the Tenants' Association.
11. Where can I get advice?
There are several organizations in Switzerland that deal with housing. One of them is the Tenants' Association. It advocates the interests and rights of tenants, advises its members and provides other services for them.
The contact for the tenants' association in the canton of Obwalden can be found at here.