Infants
Where to find offers for child care, where to buy clothes and toys at a reasonable price and how a child can best learn the German language - you will find answers to these and other questions in this section.
Questions:
01. What authority steps are necessary after birth?.
All births are registered by the Civil Registry Office. Register there with the green birth announcement form and Family card. You can also get information there about surnames, paternity acknowledgment, birth certificate and information about citizenship and nationality.


02. Being a parent is also exhausting - Where do I get help?
Parents of infants and toddlers may contact the Maternal and paternal advice centers turn. If necessary, take someone with you to translate. However, many places also have people who speak several languages.
The Parent Emergency Call Provides anonymous assistance and counseling at any time of the day or night (24 hours) upon request.
The Pro Juventute, Tel. 041 660 90 70 arranges child-friendly vacations for single parents and families with a small budget, but also socio-pedagogical family support.
The early intervention program "On the way" is for parents with preschool-age children (from 15 months to about 3½ years). The goal is that all children should receive fair educational opportunities.
Information:
Fachstelle Gesellschaftsfragen
sindy.rebmann(at)ow.ch
Tel: 041 666 61 85
The Early remedial education of the Rütimattli Offers support to parents in raising and nurturing their preschool-aged toddler with disabilities:
early education(at)ruetimattli.ch
Tel. 041 666 58 08
In the canton of Obwalden, Hanny Santini-Amgarten offers breastfeeding counseling in Sachseln.
Telephone consultation as well as personal individual consultations by appointment under
Tel. 041 660 64 46.
03. What do young children need to develop well?
Young children need care, nurturing, healthy food, exercise, contact with other children, enough sleep, Security and love. But they also need stimulation and encouragement as preparation for school and later life.
Take Regular time for your child. Tell him a story, sing a song with him or look at a picture book with him. There are also many new things to discover and learn on walks. Also, take your child to the playground often so he or she can play and romp with other children. While chatting and playing, children learn a great deal that is important for their development and later success in school: listening, expressing themselves, observing, orienting themselves, concentrating.
In addition, a well-balanced, child-friendly Nutrition necessary for healthy physical and mental development. Tips for infants and toddlers can be found on the following flyers: German, English, French, Italyish, Portuguese, Albanian, Arabic, Turkish.
04. How can I support and prepare my child for school from an early age?.
Playgroup plus: Certain playgroups in the canton of Obwalden offer internal language support for children. For more information, please contact Basil Alleman, Integration Officer Obwalden, basil.allemann@ow.ch or directly the playgroup in question.
Kindergarten preparation course
KiTas: Children's daycare centers are a place where your child can interact with peers and learn language and play together.
Consulting services: If you have any questions regarding the promotion of your child, please contact:

Family counseling
jugend-familienberatung@ow.ch
+41 41 666 62 56
Village square 4, 6060 Sarnen
Family support
familienfoerderung@ow.ch
+41 41 666 60 66
Village square 4, 6060 Sarnen
Here you will find an overview of all extracurricular childcare services such as KiTa or playgroups in the canton of Obwalden.
05. Should I send my child to a playgroup?
In the playgroup the children are promoted in their development and prepared for kindergarten. They learn to be with other children, to play, to share, to take care of each other, to argue and then to make peace again. If your child still speaks little German, this is a good opportunity to improve the language.
Here you will find a list of all playgroups in the canton of Obwalden.
06. What helps my child learn German?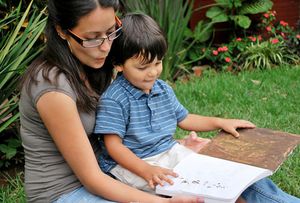 The better children understand the Mother tongue speak, the easier it will be for them to learn German later on. Therefore: Take the time to speak with your child in your language.

Talk to your daughter and son while you are doing household chores. Listen and respond when they talk to you. Go outside together - to the playground, to the woods, to a lake, to the zoo. Talk about what's there to see, and in doing so, help the Vocabulary to expand. Look at picture books together and tell stories.

On the playground or in the playgroup your child has the opportunity, together with German speaking children to be. Be happy about the words it learns in German. This gives courage to learn more words.
07. Where do I meet other mothers with young children?
Playgrounds: Good opportunities to meet other parents and their children occur, for example, at the playgrounds. The Playground Guide of the Canton of Obwalden provides information. 
Open Door: The multicultural women's meeting "Open Door" offers women with children the opportunity to discuss various topics and get to know each other. You can find information here.
08. Where can I find cheap clothes and toys for my child?
Children grow quickly and are always developing new interests. In Clothes Exchanges and Toy Exchanges there are clothes and toys almost as good as new for little money. Picture books and games can also be bought in Ludotheques and Libraries can be borrowed. To Flea markets second-hand clothes and toys can be purchased for a reasonable price.
Here you will find a listing of all the cantons sorted by Swiss second hand shops.